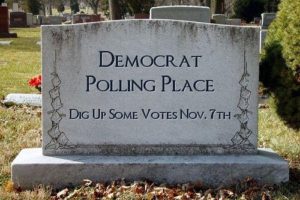 Even after calls for Russian involvement in the hacking and changing the results of the last presidential election I predict that we will see a push from liberal democrats to move to electronic voting.
If you're a liberal prepare to be insulted. 😉
Generally speaking liberals believe they are smarter than you, well unless you're a liberal.  You know you're smart enough to be a liberal so obviously you have something going on in the grey matter, right?
Liberals are like an advance alien race that need to keep things going in the right direction so the indigent lower life forms can live, and not just live but in the proper way.
Liberals have had a great shock to their obvious superiority largely due to the dumb people of America not listening to them.  This has the be resolved!  The non liberals cannot be allowed to hurt themselves.  Liberals can't remove the right to vote because of that pesky "living document" the constitution so the next best thing is to make every non-liberal a felon!  Felons can't vote!  And liberals are very much like jailers deciding what non-liberals can do what they eat, etc…
No wait, that won't work.  Ahhhhh liberals need the ability to tweak the votes that are cast, this is where electronic voting enters the picture.  Even though these superior beings are, well superior, they still can be prosecuted and put in prison!  With electronic voting there is always a possibility that some hacker, Russian, North Korean, pretty any country that isn't majority Muslim, could have hacked the vote!
Plausible deniability!
Yes I am being sarcastic, but I can see a bit of possibility in this happening.  Be very worried when any group of people think they know better than you.  Oh well I guess if they think it, it's fine, it is when they actively try to usurp your ability to live your life, legally, in the way you wish when it's a red flag.
I find it interesting that some liberals hate Church people, hate intolerance and H8 bullying, yet they think you should live a certain way (Church lady like), will verbally and even physically attack you if you don't agree with them, and well that applies to the bullying as well.
This anti-bullying sounds great, and seems logical and like common sense, except when people that would normally fear a punch in the nose now don't yet lack to show the basic respect for another's thoughts and opinions.  I don't like the idea of physical violent, I'm just saying when you think you could get punched you tend to behave better.  You know they way your Mommy and Daddy taught you with punishment when you misbehaved?
Unlike liberals (lol no not all liberals) I do like hearing other opinions.  It's a chance for me to learn something new!  If you have an opinion on this please type it in the comments!
Share and Enjoy