Wow really, October 2013 was the last post here?!?!?  Amazing how time speeds up with your having fun, or sleeping! 😀
Anywho…  So my little experiment is doing well.  No not something I'm cooking up in the mini fridge that my wife has been banned from cleaning, a little website I started over five years ago.  The xjtalk.com site.  It's a website about Jeep Cherokees.  A forum, so I don't have to come up with content, other people do!  Well that's a bit of a misnomer since when a site is starting out content has to come from somewhere and I think most of the time it's from the person/people that start it.
It has a life of it's own now.  I still love posting and interacting with people, but it good to see that it doesn't need my constant involvement now.  I think one of the reasons I haven't posted here much is I have so many avenues to get what's in my pointy little head out.  Twitter, Facebook, Google Plus and a podcast!  I say "A" podcast because the "Tony and Josh Show" has been on hold since the end of 2013.  It was a good decision as it gives more time to focus on the other, older, podcast, the XJ TALK SHOW!
My co-host and I, Josh, have been building an audience for over a year now.  Josh joined as official co-host in November of 2012 and as a registered, card carrying smart-ass, having someone to play off of is a much better fit for me.  The chemistry seems to be a good one to.  It's amazing to me that out of the three off the wall things I've tried at least two are doing better than I hoped.
Here's a promo that Josh and I did.  We do one at the end of each podcast recording, which you can also see live on Thursday nights at 10pm CT.  at youtube.com/xjtalk

Last night my wife, and youngest daughter took my oldest son to a birthday dinner.  I recently found out that Danny was interested in doing stand up comedy.  When I found out I did what characters did to Jerry in the "Seinfeld" show.  I started recommending jokes.  He all but rolled his eyes at me.  Being the type of person that really enjoys winding people up I remember to give him some joke suggestions at dinner.  Well I laughed.  If you follow me on Twitter then you've already "heard" these "jokes". 😀
I don't see my boys very often, I remember how it was with me at that age.  You may love your parents but you don't want to be around them all the time.  Now if I want to go to the range or take the Jeep off road they're more than happy to hang around with Dad. ;o)
Speaking of social media, I've recently been interacting with the FOX 26 morning crew.  It's been interesting and fun.  So if you see my tweets with #fox26forlife hashtag that's what that's all about.  I've even had a couple of my tweets displayed on the show!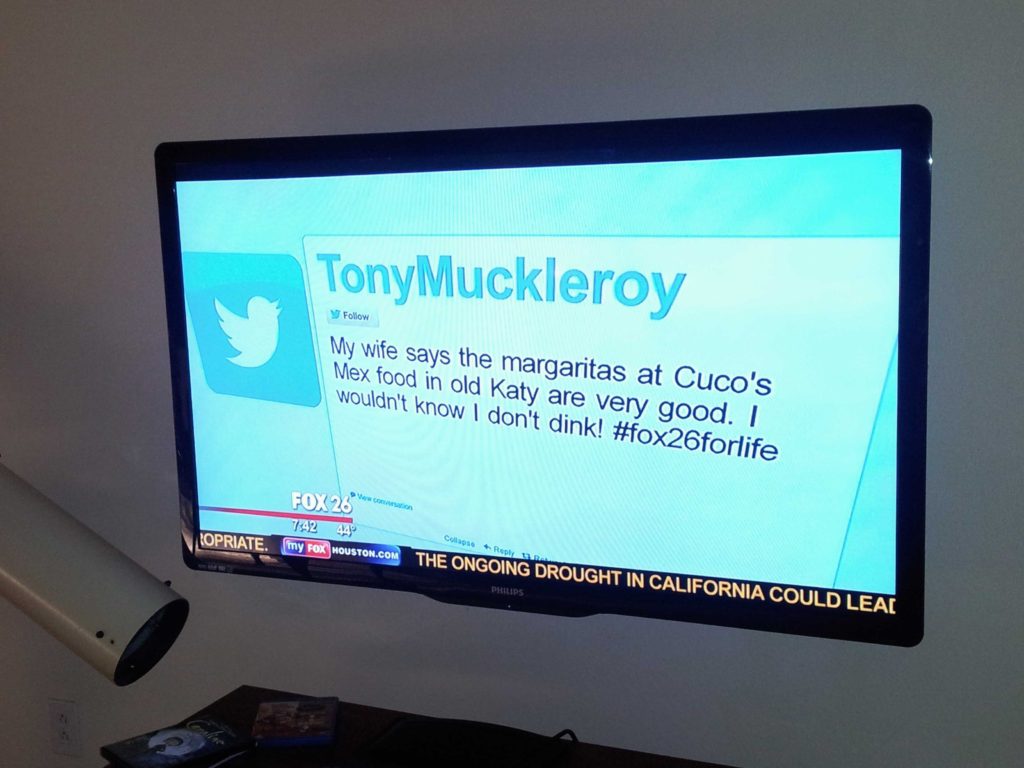 If you don't know the reference, "I don't dink" it's from the Steve Martin move "Man with Two Brains"
What's funny was I had no idea this was going to be shown, I was walking downstairs and past the living room when I noticed it on the TV my wife was watching.  Who knows which of my shenanigans they have shown!
Share and Enjoy