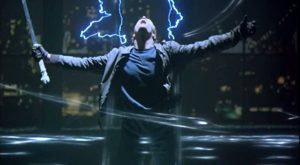 A popular movie of the mid 80′s had a phrase that was used over and over, "There can be only one!"  I am speaking of the movie "Highlander" in which a man lives forever battling immortals, like himself, until there is only one immortal left.  What if in truth it wasn't "there can be only one" but "there is only one"?  I was an only child, well in truth I had a half brother but he was eighteen years older than I and moved out about the time I was born.  I never knew a time living with anyone other than my Mother and Father.  As you may have guested they were older parents and didn't have much energy to spend with their child.  At least not by the time I was old enough to be able to remember.
No other children my age near by I spent a great deal of time by myself.  One thing I would do when I was really bored was play checkers.  I'd make a move then spin the board around and make the second move.  It was obvious this was just an effort in futility.  I knew both moves and there was little hope that I would do more than obtain a tie.  What if there was a way that I could play checkers with myself, but have two different sets of memories, learning, etc…  To be able to "forget" that I was the person that just made the chip move from one square to the other.  At this point it would at least seem challenging and I would be pitted against someone of the same age, skills, etc…  Now we're talking about a much more interesting game!
So many times you see things in the news, or sadly sometimes in your own lives that makes you question.. "Why would God allow this?"  I know I have especially when children are involved.  The extermination of the Jews during World War II comes to mind as well.  So many things, horrible things, that people do to people.  There may even be things that we do that have unintended consequences that hurt people many years down the road.
Recently I was watching a show where they postulated that our universe is merely a hologram, a simulation.  They spoke of the pieces that make up matter being so small and spaced so far apart that there was more nothing than something in everything and all of us.  That force fields is what bump up against each other when we touch something.  The Higgs Boson field is what makes everything REAL.  Dark matter and dark energy necessary for galaxy formation and our existence.  A delicately balanced set of settings necessary for everything to work as it does.
Have you ever played an online video game?  Any would do but I'm thinking primarily of the first person video games.  You move around a world full of things that you can touch, bump into, shoot just like reality, and when you die you can leave your body until you re-spawn, or restart the game.  No one likes dying but in the big scheme of things it isn't that big a deal.
Then one day one possible answer dawned on me, really as a joke, to explain all this.  As I thought of it the more sense it made.
There isn't a we there is only a me.  There can only be one, and the one is me.
Share and Enjoy